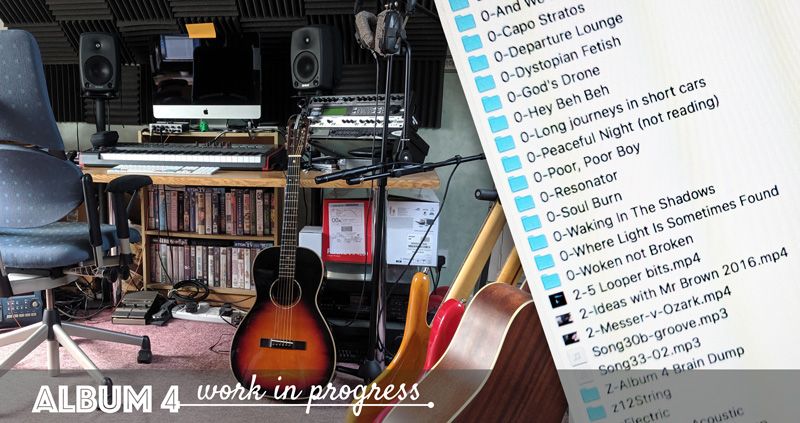 After a restless few months it all starts again..
Big Blue Car is recording.
The usual writing process remains the same; I collect all my odd scraps of recordings from mobile phone videos, dictaphone type recordings and chord sheets. I put all the digital stuff together into a directory on my home server (for easy access wherever I may be). 
At this point I have a habit of both looking back and forward in time at any material stored. Anything is game as long as it has that little 'something', but essentially I'm still scraping as many new ideas as I can into the digital bucket. 
This will be the first time I can get a sense of a whole selection of musical ideas which could form an album, so I have to initially weed out things which won't sit well under the Big Blue Car hood.  So far I have more than enough ideas for an album (I generally like to keep it to between 10-12 tracks). 
Next stage; I'll get into recording and start writing even more ideas straight from within Logic Pro. Thankfully this 'honeymoon' period lasts for just a few weeks until I settle down and start to look at seriously sculpting and reforming what I have. 
As yet I have no clear ideas for words or track/album titles so I'm just using pseudo-naming for the moment. 
And thinking about this... I might put some working freebies up at some point, just to show that I'm actually really doing stuff :).
KP