It's January and after the Christmas / winter break I'm looking back at my initial recordings made over the last 6 months.
It does feel a bit like things have slowed in this respect, but in reality I'm doing 'not too shabby'. I've been working on two music projects at the same time, right up until October. But I now have them both in some rough form concentrating my efforts and energy to finishing one before the crocuses die back.
It looks like the Mesh'd project (Sun Rises As Concrete Sets), will be completed before the new Big Blue Car album (10 Campfire Songs). The cover to Concrete is done, all the tracks are chosen and sitting nicely together in sequence, so I'm now at the ever-cycling stage of: mix a track... listen... make notes... refine... listen again... make more notes, etc.
Mesh'd will sound nothing like Big Blue Car - you can visit the mesh'd page here for more info.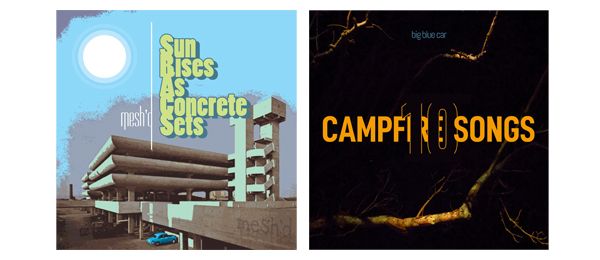 Fingers and toes are crossed for a summer release of Campfire Songs.